Vestige Concept Gallery
Pittsburgh, PA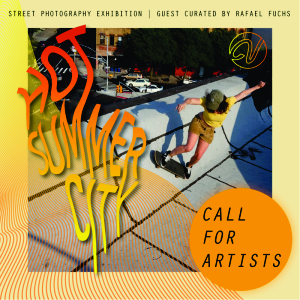 Hot Summer City: Street Photography Exhibition will be held in the cultural heart of Pittsburgh, PA: Lawrenceville. Home to celebrated artists, most notably Andy Warhol, the former steel making capital is now referred to as "The Paris of Appalachia" due to its deep connections to the arts and world-class museums.
Vestige Concept Gallery is seeking street photography that captures the essence of urban life in the summertime. Summer is an intense and multifaceted season that brings joy, freedom, and social opportunities. When we think of representing the season through photography we envision warm light, deep shadows, and/or depictions of late nights, summer fun, and enjoying time outdoors. We are also interested in works that capture the dark side of summer: oppressive heat; struggling to keep cool; and surviving the "dog days of summer." The show will be Special Guest Curated by Rafael Fuchs.
HOT SUMMER CITY IN-PERSON OPENING RECEPTION will be held Saturday, July 10th, at 6 PM.

ELIGIBILITY
Street Photography Exhibition is open to any artists over age 18, Internationally. International- please see note below.
Work should ideally have been created in the last two years, and should encompass the theme of the show.
Work must not have been previously displayed in a Vestige Concept Gallery exhibit.
Work must be for sale.
Work should be framed and ready to ship, if selected. The Gallery adheres to tight monthly exhibit deadlines.
ENTRY PROCEDURE
Entries and fees will be processed only through www.callforentry.org
Applicants may submit up to 2 entries. These two entries are included in the $25 application fee.
An additional charge of $5 per entry is charged for any additional submissions, up to 8 total.
Application deadline is Friday, June 18th, 2021
Artists will be notified of acceptance by midnight, Saturday, June 19th, 2021
Shipped works of art must arrive no later than Wednesday, July 7th, 2021.

CONDITIONS OF ACCEPTANCE
Artists accepted into the show must send an email confirmation upon acceptance, plus provide a high resolution 300 dpi image of the accepted piece(s) along with an artist pic, short bio, and web/social links (if applicable). These items are necessary for the Online version of the show. By submitting this information, you provide Vestige Concept Gallery all rights to post the work on their gallery website and within a paper brochure for the event. (Please also see our legal agreement for use of images and other material for promotional purposes).
Accepted artwork must be the actual artwork as seen in the submitted images. No substitutions. Vestige Concept Gallery reserves the right to pull any artwork that differs from the images in the accepted submission.
Accepted artwork listed for sale must be for the price listed in the submission. No price changes.
Vestige Concept Gallery will retain a 25% commission for any artwork sold, please factor this into your pricing.
Artists are responsible for shipping & optional shipping insurance to and from Vestige Concept Gallery. A prepaid return shipping label must be included. Fedex or UPS only. No cash or checks.
Shipped work must be sent in reusable, sturdy boxes and marked with your name. No loose peanuts. Artwork framed with glass is the responsibility of the artist and is not recommended. Artwork with glass that arrives in broken condition may be pulled from the event if artist is unable to remedy the issue.
Late or damaged work will not be exhibited. Art damaged in transit is solely the responsibility of the artist and shipper. Artwork may also be hand-delivered, if applicable.
Wall pieces MUST be securely wired, framed, and properly prepared for display. Painted edges and/or a clean-edge gallery wrap is ok.
2D Work must not exceed 30 lbs, including frame.
INTERNATIONAL APPLICANTS (EXCLUDING CANADA): In lieu of shipping your work, the Gallery will offer to print your photography - 13 inches by 19 inches maximum (33 x48 CM)- or less, and frame. Or, you may choose to expedite ship your work. The Gallery can only print on high-quality inkjet archival paper from digital files; no other special requests. International interest, it may be best to contact the Gallery first to discuss your location and logistics.

TIMELINE
June 18: Application deadline.
On or before June 19: Acceptance notification
July 7: Deadline for shipped or dropped-off work
July 10: Opening Reception
July 11: "Safe" Walkthru Day (if applicable)
July 30: Show closes
July 31: Unsold artwork is packaged and shipped back
Any questions please reach out to: [email protected]
All applications must be received through callforentry.org


Do you like this post?